Up For A Challenge This October?
This year we are changing up our annual Organ Trail to be a Virtual Event. With the prevalence of both COVID-19 and other respiratory illnesses in our communities, we have created an array of challenges meant to test our participants and which are sure to get your heart pumping throughout the month of October. This also means you can participate wherever you are and however you are able!
Select from your choice of four unique challenges:
1.) The Walker Challenge (monthly challenge) - Up for a step challenge that lasts the full month of October? Get 7,500 steps a day for the entire month and be sure to document your progress. Show us what you've got on November 1st and get your swag, medal and total bragging rights!
2.) The Runner Challenge - Miss the original? Here's your chance to still run a 5 or 10k (your choice), and show us you completed your miles. You have the entire month to run the distance so long as it's completed by the time Halloween is over!
3.) The Creeper Challenge (monthly challenge) - Are you the best of zombies, the kind that just endures? Join the Creeper Challenge and be active the entire month! Your choice: Walk, Run, Dance, Swim, Pedal, Lift ... whatever you do to be active do it for 30-60 minutes a day, and track it for the entire month!
4.) The Roamer Challenge - 5 or 10k just too short of a distance for your taste? Run a half, a full marathon or go longer at any point in the month! Be sure to document your distance, your time, and turn it in before the 1st of November for your swag and some serious congrats!
Frequently Asked Questions
Is This A Family Event?
Believe it or not, yes! The Organ Trail Zombie Virtual Event is meant to be a bit of Halloween season fun. We have had every age present, from toddlers in strollers to senior citizens and every age in between participate so far. The point of the challenges is to choose one which will push you, but not break you.
I Don't Run, Can I Walk Instead?
Absolutely! At Memorial Hospital of Converse County we encourage healthy lifestyles and being active. If your activity levels include walking and you can safely complete the 5k you should sign up! (Of course check with your provider before taking on any strenuous activities or exercise regimens!)
How Much Does It Cost?
We have opted for a very simple pricing structure this year: every challenge costs $20
Each person who registers receives the following:

a Survivor's Swag Bag Health Kit with a neck gaiter, hand sanitizer, lip balm, granola bar, water bottle and more.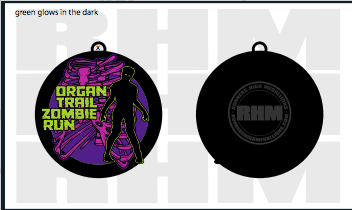 ​