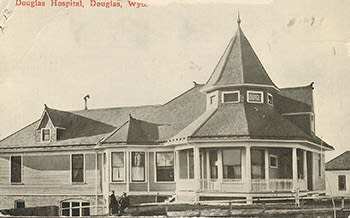 Memorial Hospital of Converse County's rich history starts like many hospitals of the Old West—out of desperation. In the late 1800s, Douglas, Wyoming, was the end of the line for the railroad. Prospectors, land men, and immigrants all found themselves departing the train in Douglas, looking for a new life or for alternative routes through the West. At that time, agriculture was limited to huge ranches that spanned the county and healthcare was left up to fate and home remedies.
Concerned that Douglas did not have a real doctor, area ranchers pooled their money together to bring a doctor to Douglas from back east. Families who paid to bring the doctor were able to use his services. Over time, more physicians moved to Douglas, establishing individual practices, working out of the homes of the sick or from their own offices.
Memorial Hospital was established in 1942. The hospital was located at a World War II prisoner-of-war camp infirmary just outside of Douglas (see photo at top of page). In 1950, a new, modern hospital was built just east of downtown. The building served as the hospital until 1983, when construction was completed on the current four-story hospital building. In 2001, the hospital officially changed its name to Memorial Hospital of Converse County and opened a new two-story wing and new hospital entrance.
As a critical-access hospital, Memorial Hospital began to thrive and was asked to take over management of the county's ambulance service in 2006. In 2008, state-of-the-art surgery suites were opened, attracting surgeons from area hospitals, bolstering patient numbers, and furthering Memorial Hospital's reputation of providing advanced medicine and hometown care. Memorial Hospital also implemented electronic medical records and invested in other technologies designed to carry the hospital into the future.
2012 marked Memorial Hospital's 70th year of service in Converse County. The hospital opened a new pharmacy, completed remodeling efforts in the radiology department, opened a new dedicated surgery suite in the birthing center, and went live with eICU on the patient floor. Energy companies from the northern part of the state asked Memorial Hospital to be part of their employee wellness programs, and community events drew friends and neighbors closer to the hospital. 2012 also marked the beginning of significant change in how Memorial Hospital staff interacted with patients, shifting focus toward the patient experience.
In 2013, the hospital partnered with the Studer Group to help focus efforts on quality improvement, establishing new values and behavioral standards. The hospital's robotic surgery program was launched with the purchase of Wyoming's first and only da Vinci Si Surgical System.
Memorial Hospital's Medical Office building was opened in March of 2014. The $6.8 million facility is home to all of the hospital's doctors and providers, as well as the wellness clinic and urgent care.
In July of 2017, the newly remodeled Emergency Department was opened. It is now equipped with private bays, an isolation room with private bath and an updated Trauma Room with improved workflow, lighting and equipment. With the updates, Memorial Hospital is now redesignated as a Community Trauma Hospital.
Memorial Hospital's Stella Beard Infusion Center was opened in the Fall of 2018. Named for the little girl it was built after, the center was made possible through the generosity of the Beard family who spent hours traveling to Colorado where Stella received treatments for a brain tumor. Located on the second floor, the Center includes three curtained bays and private room. The suite includes custom heated infusion chairs with personal media players, a private waiting area for family and friends, refreshment center, restrooms and dedicated nurses station.
Recognizing there is always room for improvement, the hospital celebrates all it has accomplished and looks forward to one day realizing their dream of becoming "The Best Healthcare Organization in Wyoming."
All photos provided courtesy of the Wyoming Pioneer Memorial Museum, Douglas, Wyoming.