Meet our leadership team members
Matt Dammeyer joined Memorial Hospital in 2019. He earned his Master's and PhD degrees in Clinical Psychology from the University of Wyoming in Laramie, WY and started his career in healthcare with a private practice in Norfolk, NE. Matt was most recently the CEO of the Alaska Psychiatric Institute (API) in Anchorage and, concurrent with this position, owned a consulting firm focused on assisting clinical practices, with education for acute psychiatric care. He spent a large amount of his professional career at the Central Peninsula Hospital in Soldotna, Alaska. Leaving private practice in 2001, he took on roles with ever-increasing degrees of leadership input and responsibility including Clinical Director/Staff Psychologist, Director of Behavioral Health, Assistant Administrator, and finally Chief Operating Officer, a position he held for seven years.
"When I graduated from the University of Colorado (Boulder), I originally planned on attending a doctoral program on the east coast. However, I took a trip to Laramie and was extremely impressed with the people and culture," Matt shared, reflecting on his initial experiences with the Cowboy State. "Twenty-five years later, I visited Ryan Smith at Memorial Hospital of Converse County as I was driving from Colorado to Alaska. The experience was stunningly similar. It brought back a flood of positive memories from my time in Wyoming. I immediately began exploring CEO opportunities in Wyoming, and feel very fortunate to move my family to Douglas."
Noting that our mission, To Be The Best Hospital In Wyoming, and the organization's value of Joy stood out particularly for him, Dammeyer shared what further drew him to the role of CEO with Memorial Hospital was the hospital's commitment to patient-centeredness. "Much of my career, both as a clinician and administrator, has focused on developing systems and cultures that put the patient at the center of the healthcare experience; with increasing specialization in medicine, maintaining a focus on the human being is not always easy, but necessary," said Dammeyer. "I want to be part of a healthcare system where patient-centered care is always emphasized. I believe that Memorial Hospital of Converse County is that system. This healthcare organization truly understands the importance of putting the patient first."
"Memorial Hospital of Converse County is a sophisticated healthcare system, particularly for a rural setting. I am honored to join with the Board of Directors, Leadership, Providers, and Staff to further develop it into something even more spectacular," Dammeyer concluded.
Matt and his wife, Maria, along with their six children are excited to make their home in Wyoming. Matt's interests include doing anything his family is doing, including church, family adventures, camping, riding bicycles, and cooking together. He also enjoys training for triathlons and mountain running, and teaching staff how they can be happier by finding meaning in their work.
Jim Cussins oversees all of the revenue cycle staff as well as materials management and health information management. A Wyoming native, Jim Cussins, as well as his wife Tammy, come to Douglas from Cheyenne, where Jim was born and raised. After his interest in accounting was piqued in high school, Cussins went on to the University of Wyoming to pursue an Accounting degree. After graduating, he started his healthcare career as a Medicare Auditor. Since then, he's stayed in the healthcare industry, knowing that there's always going to be a need for accounting in healthcare and healthcare isn't going anywhere.
In 2019, Jim joined Memorial Hospital of Converse County as its CFO. The friendly team and family environment is what drew Cussins to Memorial Hospital. In his spare time, Jim and his wife enjoy the theater, going to concerts, various sporting events, traveling and playing golf. He also enjoys teaching finance and accounting and making it fun.
Dr. Lansang is Board Certified in Family Medicine. A Wyoming native, Dr. Lansang grew up in Rock Springs and received his undergraduate degree in Zoology and Chemistry at Texas State University in San Marcos, TX. Dr. Lansang attended Autonoma University of Guadalajara in Mexico and completed his residency and internship at the University of Colorado Health Science Center in Denver. Dr. Lansang worked as a Hospitalist and Emergency Department Physician in Texas before joining Memorial Hospital of Converse County in 2014. Dr. Lansang enjoys outdoor activities and speaks fluent Spanish. He and his wife live in Douglas.

Cristy Dicklich-Cobb, MSN, RN, Alumnus CCRN is the Chief Nursing Officer at Memorial Hospital of Converse County.
Keeping the patient at the center of decision making is a beacon of direction in her practice. She believes in Shared Governance and involving people at the point of care in decision making.
Cristy has been a RN for 24 years, starting out working as a CNA in a nursing home. She has worked as a nurse in Telemetry, Radiology, Intensive Care and Emergency Departments.
She graduated from Casper College with an ADSN in 1995, from the University of New Mexico as a BSN in 1998. In 2010, she completed a MSN in Education from Walden University.
Cristy was named the Norman S. Holt award winner by the Wyoming Hospital Association in 2015. She serves on the Wyoming State Board of Nursing.
Cristy and her husband Jim have six children ranging from 28 to 8 years of age. Her past-times include chasing kids and doing massive amounts of laundry.
Dave Patterson is the Chief Information Officer (CIO) at Memorial Hospital of Converse County. In addition to his daily IS duties, Patterson oversees all IS purchases, negotiates IS support contracts, prioritizes and facilitates all IS related projects and coordinates the various data systems within Memorial Hospital. He has worked at Memorial Hospital since 2000 in a number of IS-related positions, and was named CIO in 2011.
Dave and his wife, Lisa, have raised 4 sons here in Wyoming. In his down time he enjoys reading, home improvement, gaming, and spending time with his family and their 3 Dalmatians.
Victor Le Gloahec joined Memorial Hospital of Converse County in November 2022. Mr. Le Gloahec began his career as a cancer research scientist before navigating into the realm of healthcare administration. His health care experience includes acute, post-acute, long-term acute, outpatient, home health, and hospice patient care settings.
An original native of North Carolina and former long-term resident of Lubbock, Texas, Victor earned Bachelor degrees in Chemistry, English, and Chemical Engineering from Texas Tech University. He also received a Master of Business Administration from the University of Louisiana at Lafayette.
Victor maintains his status as a Certified Professional in Patient Safety (CPPS) and active member of the American College of Healthcare Executives (ACHE). He has been active on several community advisory boards including The United Way, Rotary International, and with numerous science museums and organizations. He is looking forward to getting involved with various volunteer organizations within Converse County in the future. Victor was previously named to West Texas' 20 Under 40 Business Professionals in 2017.
In his free time, Mr. Le Gloahec likes to dedicate his efforts to exploring the outdoors with his German Shepherd (Dixie), reading nonfiction literature, firearms, and promoting science education and mentorship amongst the youth in local schools.
Derrick Webb oversees the Human Resources, Payroll, EVS, Dietary, Childcare, Public Relations, and Strategic Innovation departments. He joined Memorial Hospital in September of 2022.
Derrick is a Cheyenne, Wyoming native, graduating from Cheyenne East High School (Go Thunderbirds!). He went on to earn a Bachelor's degree in Business Administration from the University of Sioux Falls and then a Master's degree in Human Resource Management from Colorado Christian University.
He and his wife have been married for 16 years and have 6 children and 1 grandchild. Derrick is bilingual in English and Spanish. His interests include church activities, ATVing, camping/hunting/fishing, and his kids' sporting events.
Joy Johnson oversees all pharmacy functions, such as selections of, ordering/prescribing of, and preparing/dispensing of medications. Johnson is also involved with several hospital committees involving medications and medication safety, physician order sets, and coordination of Memorial Hospital's ePharmacy program.
Johnson is a graduate of the University of Wyoming School of Pharmacy and also has a Bachelor of Science in microbiology. Before joining Memorial Hospital in 2000, Johnson managed a Home IV Infusion pharmacy serving the states of Wyoming, Montana and Idaho. She has also worked as a staff pharmacist for Wyoming Medical Center and Safeway. Johnson and her husband, Brad, enjoy the company of their dogs, volunteering, reading and watching their family tend to their small vineyard.
Jerrie Root is responsible for the oversight of all physician and hospital billing as well as billing for Memorial Hospital EMS.
Root started in data processing at Memorial Hospital in 1998. Soon after, the hospital began a collaborative hospital information system project with Wyoming Medical Center in Casper, and she was asked to work with WMC to build all of the dictionaries and system files related to billing and accounts receivable that Memorial Hospital would need to use this system. When the business office later adopted the Clarus information system, Root was named billing supervisor and later business office manager. In 2010, the hospital implemented the Meditech and LSS information systems that merged patient billing with the EMR, and Root oversaw the build and set up of her 3rd and 4th billing system at Memorial Hospital. In 2012, she was named business office director.
Root and her husband, Dr. Buck Root, have 3 children and 7 grandchildren. When she is not working at Memorial Hospital, she keeps busy helping her husband with his practice at Riverbend Veterinary Hospital and caring for her home and family.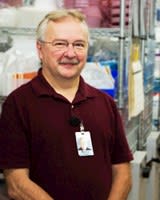 Marvin Sik oversees all departmental activities and personnel in purchasing and central supply. Sik is responsible for contract negotiations, purchasing and delivery of all hospital supplies, delivery of those supplies to departments within the hospital, budgeting, and inventory of all hospital equipment and supplies. He started in 2009 as manager of purchasing at Memorial Hospital and was named director in 2012. Sik and his wife, Brenda, have 3 children and enjoy camping, football and hockey.
Eric VanOsdol oversees all of the maintenance and repairs for the hospital and its outpatient clinics, negotiates service contracts and purchase contracts, and coordinates construction projects throughout the buildings.
VanOsdol started in the bio-med department at Memorial Hospital in 2004 and was responsible for repairing all clinical and nonclinical equipment. In 2011, he accepted the maintenance manager position and in 2012 was named department director. VanOsdol has two sons and loves his work. When he gets the chance, he enjoys camping, hunting, hiking and working out at the gym.
As the Director of Population Health, Holt aims to continue to improve the overall health of Memorial Hospital staff and their families in an effort to reduce healthcare costs for individuals and the organization. He also serves as the hospital's Swing Bed Activities Director for our inpatients.
Holt received his Bachelor's in Physical Education Teaching and Coaching and earned a Master's of Science Health and Physical Education / Ex. Phys. from the University of Wyoming. He went on to earn his Masters of Education in Educational Leadership and Administration from the University of South Florida. Holt is a Certified Personal Trainer, a nutrition and fitness-focused health coach, an education consultant and coach who most recently served as an Associate Principal and Instructional Facilitator at Converse County School District #1 and is a Nutrition Instructor at Eastern Wyoming College. Holt was elected to the CCSD#1 School Board of Trustees and Recreation Board in 2016, is the EWC BOCES Board Chair, serves on the Human Resource Council Board and is the Co-Chair of the Converse County Prevention Alliance (formally the Prevention Management Organization).
In promoting health and fitness, Holt opened and runs an employee gym with awarded worksite wellness grant funds from the Wyoming Dept. of Health Chronic Disease Prevention Program. Additionally, Holt created and implements a comprehensive lifestyle intervention and weight management program that addresses the whole spectrum of personal wellness (6-month cohort) -called the Get R.E.A.L. Program.
Holt values family time, is an ultra-marathon runner, an avid weight lifter, a mountain biker, and loves reading anything health, fitness and nutrition-related.
Anna Cobb is responsible for all laboratory testing throughout the hospital and its clinics and oversees 11 nationally certified lab techs and phlebotomists. The lab is available 24 hours a day, and Memorial Hospital completes 95 percent of all testing in-house.
After graduating from Douglas High School, Cobb attended Casper College and then the University of Wyoming to obtain a bachelor's degree in medical technology. She later moved to Birmingham, Alabama, where she received her master's in clinical laboratory science. She returned to Wyoming and proceeded to work in Casper and Cheyenne before returning to Douglas and Memorial Hospital.
Cobb enjoys spending time with her three kids—two boys and a girl—and being with her family now that they're all in Douglas. She also enjoys quilting and reading in her spare time.
As the Director of Emergency Services, Robynn Scheehle oversees Memorial Hospital's Emergency Department as well as the Douglas and Glenrock EMS departments.
Scheehle graduated from Casper College with her Associate's Degree in Nursing in May 1998. She then received her Bachelor's degree from the University of Phoenix and later her Master's Degree in Nursing from Chamberlain University in Chicago. Scheehle then continued on and completed the Family Nurse Practitioner program at Chamberlain University.
Scheehle has 4 children and 8 grandchildren. Besides spoiling her grandchildren, her hobbies include gardening, traveling, camping, fishing and shopping.
Nick Belveal oversees Health Information, Patient Access, Prior Authorization and Patient Privacy at Memorial Hospital.
Nick's family moved to Star Valley in Western Wyoming when he was 3, but he has always considered himself a Wyoming native. After graduating from SVHS, he earned a Bachelor's in Business Administration from the University of Wyoming. He furthered his education at Indiana University - Purdue University Indianapolis in Indianapolis, IN, and after a few years out-of-state, he came back to Wyoming and worked at Wyoming Medical Center for 16 years as the Director of the Health Information Management Department.
While at UW, Nick met his wife Michele, and they have been married for 28 years. Michele also works at Memorial Hospital as a nurse on the Med/Surg floor. They raised 7 children and have 3 grandchildren. Nick's official grandparent name is "Gramps". He likes to fly fish, golf, play frustrating video games, and enjoy his family and church family. Rumor has it he is also a Dallas Cowboys fan!
As Director of Inpatient Services, Misti Bachus oversees the staff and daily operations of the Medical-Surgical, OB (Labor & Delivery), and ICU departments.
Misti is originally from South Dakota. She earned her Associates Degree in Nursing at Oglala Lakota College in Kyle, South Dakota in 1995. She relocated to Douglas in 2002 and has been with Memorial Hospital since.
She has wide-ranging nursing experience, working previously in Med-Surg, ER, OB, Cardiac Rehab, and Nursing Informatics.
Misti and her husband John have 5 children and 1 grandchild. During her spare time Misti enjoys spending time with family and friends, traveling, gardening, camping, basically any summer activity and the Atlanta Braves.